Whether you are an individual or a company/organization, becoming a Teachers Test Prep Affiliate is a great way to earn referral fees on qualified purchases made by customers you refer to us through your website or blog.
Here's how it works...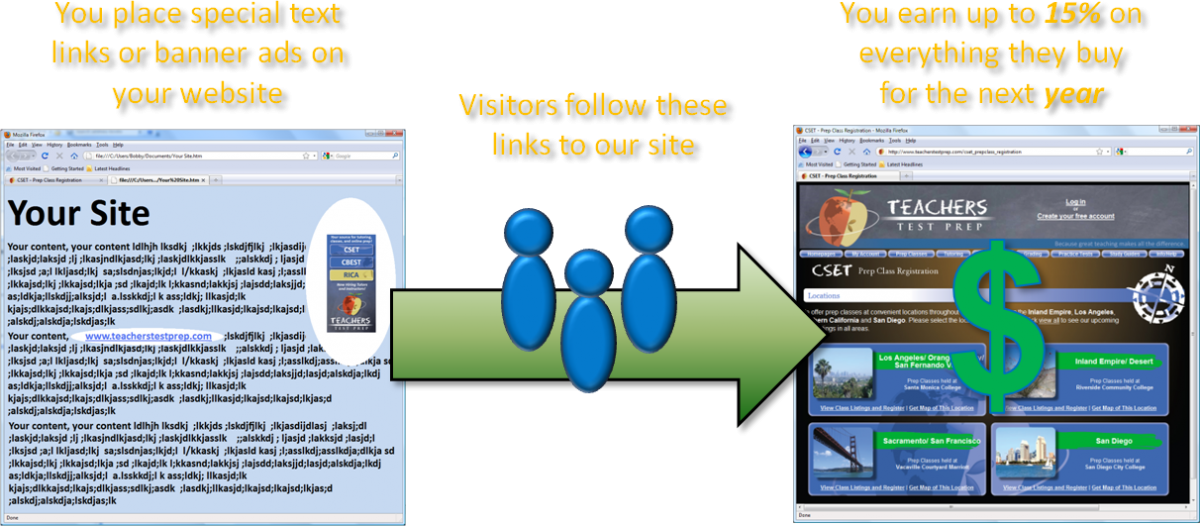 Once you sign up as a Teachers Test Prep Affiliate, you will have instant access to our Affiliate Center, where you can quickly and easily create custom links and image ads to paste onto your webpage. Each of your links and banners will include your unique Affiliate ID code, which allows us to track the customers you send to us (even if they leave our site and return later to make a purchase) and send you monthly checks or direct deposits for the fees you've earned every time your balance due reaches $200 or more.
From the Affiliate Center, you will also be able to view an updated record of the fees you've earned to date, and when your next payment will be sent.
Here is a breakdown of our Affiliate Fee schedule:

Becoming a Teachers Test Prep Affiliate is as easy as 1-2-3...
1) First, log in to your Teachers Test Prep account or create a free account if you do not already have one.
2) Once you are logged in to your account, hover over the "Info & Help" button on the top menu bar, then click on the "Affiliate Center" link that appears in the dropdown menu under "About the Exams & Other Info." You can then complete our simple online Affiliate Application Form. (Please note, the form will only be displayed for users who are logged in.)
3) After submitting your application, you will then be automatically taken to our Affiliate Center, where you can create text links and banners that include your unique tracking ID. After placing these on your website, return to the Affiliate Center at any time to view custom reports on your clicks and commissions.