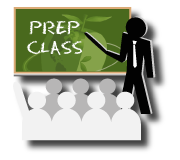 Take Our Prep Classes on Your Schedule
You may wish to enroll in a set of three or more prep classes with us and receive our 20% discount, but you may wish to take some of the classes at a later date. With our Class Credits system, you can! Just enroll in the classes you wish to take now and purchase Class Credits for those you wish to enroll in later.
All Class Credits remain valid for one year from the date of purchase and can be applied to an upcoming class at any of our available locations. To apply a Class Credit, simply log into your Teachers Test Prep account, click on "My Account," and then "Credits." You will see a list of upcoming classes to which your credit may be applied. Select the class in which you wish to enroll and complete your free checkout to be added to the class roster and receive your receipt for admission. It's as simple as that!
Please note: Purchasing a class credit does not constitute class enrollment. You must apply your class credit and complete checkout as described above in order to register for, and be admitted to, your class. Class credits expire one year from the date of purchase.
Class enrollment is subject to availability and occupancy restrictions. Not all classes are offered at all locations before each exam.
Have questions? Contact Us!
Class Credit - CSET Multiple Subjects Subtest 1

This credit can be applied to enroll in any of our available CSET Multiple Subjects Subtest 1 Prep Classes at any location. Credit includes 1 original admission plus 1 retake credit. Credit remains valid for 1 year from date of purchase.

Cost: $175.00
Class Credit - CSET Multiple Subjects Subtest 2

This credit can be applied to enroll in any of our available CSET Multiple Subjects Subtest 2 Prep Classes at any location. Credit includes 1 original admission plus 1 retake credit. Credit remains valid for 1 year from date of purchase.

Cost: $175.00
Class Credit - CSET Multiple Subjects Subtest 3

This credit can be applied to enroll in any of our available CSET Multiple Subjects Subtest 3 Prep Classes at any location. Credit includes 1 original admission plus 1 retake credit. Credit remains valid for 1 year from date of purchase.

Cost: $95.00