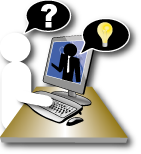 Proven Results, Unsurpassed Convenience

Watch our 1-minute Live Online Prep Class Info/Help Video to learn more about our Live Online Classes.
Below, you will find a listing of our upcoming Praxis 2 (ETS 0014/5014/5031) Elementary Education Prep Classes held live online. This highly focused class targets the specific subject matter knowledge you need to pass all four sections of the ETS Praxis 2 Elementary Education exam, and also teaches proven strategies to help you apply that knowledge to the Praxis 2 question types you will encounter on the real test. Our Praxis 2 Elementary Education Prep Classes are broken up by section (i.e. Reading/Language Arts, Mathematics, Social Studies, and Science), so you can take classes in just the specific subject areas with which you need help, or take all four classes for a comprehensive Praxis 2 Elementary Education test preparation program. All class materials are provided at no extra charge.
To enroll in a class, simply click the "Add to Cart" button. When you are ready to check out, click the "Checkout" button.
Once your transaction is complete, your space in the class will be reserved and you will receive a receipt by email.
On the date(s) and time(s) of your class, simply log into your Teachers Test Prep account and click on the "Access Now" link next to "Live Online Tutoring" on your My Account page. This will open the classroom interface in your browser, and you will be able to see and hear your teacher and classmates onscreen along with content slides and practice test questions your teacher will present. You will also be able to ask questions using your computer's microphone or by using your keyboard.
You may also view a full Class Itinerary for each of our classes. And as always, please don't hesitate to Contact Us should you have any questions.
The classes listed below are designed to prepare test-takers for both the Praxis 2 Elementary Education: Content Knowledge (0014/5014) and Praxis 2 Elementary Education: Multiple Subjects (5031). These exams are virtually identical with regard to question types and the subject matter knowledge tested. The key difference between the two exams is that all sections of the 0014/5014 exam must be passed together in one sitting, while sections of the 5031 exam may be retaken separately. Because of this, we recommend that all 0014/5014 test-takers, as well as first-time 5031 test takers, enroll in all four sections. Praxis 5031 test-takers who have already passed certain subtests should enroll in only the individual subtest sections they will be retaking (5032-5035).
Thank you for choosing Teachers Test Prep. We look forward to helping you pass the Praxis 2 Elementary Education exam!

Can't attend our live online classes listed below? Or just want to begin studying sooner? No problem. You can get the same great instruction right now (plus a host of other great features), at your pace and on your schedule, when you enroll in our on-demand Praxis II Elementary Education Online Prep Programs. And when you enroll in a Core Plus or Golden Apple on-demand online program, you will also receive a discount credit should you later wish to also take the corresponding live online class.