CSET Test Dates & How to Choose the Right Date for You...
Below is a current listing of the 2015 CSET test dates. These are the paper-based test dates, which apply to all CSET Single Subject Exams, such as CSET Mathematics, CSET Science, CSET Social Science, and CSET English. The CSET Multiple Subjects and CSET Writing exams are now offered exclusively via computer-based testing. You can schedule computer-delivered CSET testing year-round by appointment.
When choosing your CSET test date, you should consider how you plan to prepare. If you will be taking a CSET Prep Class, you will want to ensure that all session dates fall before your exam date. How long before your test date to take a prep class will vary based on your individual needs, but most of our students find that taking a class one or two weeks before their CSET test dates works best, so that the information taught is still "fresh in their minds" on exam day.
If you plan to take a CSET Prep Class, we encourage you to enroll early to ensure your space and to take advantage of our registration discounts. Please click below to view current coupons...
If you plan to enroll in one-on-one CSET Tutoring, we recommend you view our Tutoring Calendar for information on our tutors' available session dates. Keep in mind the number of sessions you plan to schedule. Typically, tutoring is most effective when you allow some time for independent study and review between sessions, so you may wish to schedule a series of tutoring dates several weeks or more in advance of your CSET test date.
One of the most flexible and effective test preparation options is on-demand CSET Online Prep. With engaging instructional videos, interactive practice tests, and innovative Smart-STEM Virtual Tutoring, you get the same great instruction you would in our live classes, and more, available 24/7 at your pace and on your schedule, and you also have the option to get live help if you need it. If you are taking a computer-based version of the CSET, you will be able to select your CSET test date year-round by appointment, so this preparation method is especially convenient.

Did you know that when and how you register for the CSET can affect your testing fees? Click below for CSET registration info and simple suggestions to help you save on testing costs...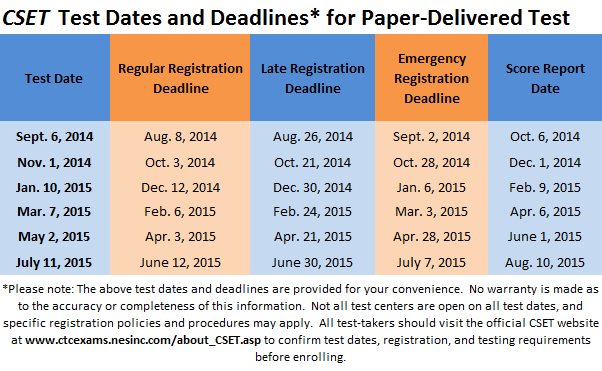 Not sure how much preparation you will need before your CSET test date? Start by viewing our free CSET Study Guide to get a concise overview of exactly what subject matter will appear on your exam, then take our free, full-length CSET Practice Test with diagnostics to see how you will perform and identify any areas in which you may need to improve.
PLEASE NOTE: The CSET information provided above is intended as a helpful overview. It is not comprehensive, and is not intended to replace the full information found on the official CSET website. No warranty is made as to the accuracy or completeness of this information. All test-takers should visit the official CSET website at www.ctcexams.nesinc.com/about_CSET.asp for complete CSET registration info and to confirm test dates, procedures, and testing requirements, and should consider their individual needs, before making any registration decision. Teachers Test Prep is an independent test preparation company, and is not affiliated with Pearson Education, the company that administers the CSET.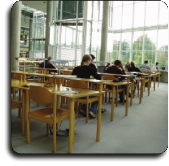 Before Selecting Your CSET Test Date...
Quality test preparation can greatly increase your likelihood of success. Before selecting your CSET test date, please consider how you plan to prepare and the appropriate timeframe that will be needed. Choose your exam below to learn more about available test preparation options...
Looking for a CSET exam not listed above? Click here to view other CSET tests.
As the nationwide leader in credentialing exam preparation, Teachers Test Prep is proud to serve over 250,000 individual account holders as well as top universities, schools, and teachers' organizations. Learn more about our partners...
---
Featured Partner:

USC Rossier School of Education

Earn your teaching degree online from top-ranked USC without relocating.

Whether you're a current teacher or an aspiring one, USC Rossier offers a graduate-level teaching program designed to fit your goals:

Master of Arts in Teaching: Prepares aspiring teachers with the skills needed to be great educators and enables you to be recommended for a teaching credential.
Master of Arts in Teaching TESOL: Prepares you to become an English language teaching specialist in a variety of settings and educational levels.

Read more about the Rossier School of Education at the University of Southern California, and request information about your program of choice.