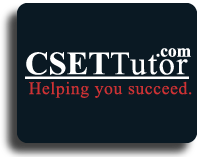 CSETTutor.com is Now Part of Teachers Test Prep...
CSETTutor.com offers quality test preparation services for the CSET Multiple Subjects exam. As of 2009, CSET Tutor is now part of Teachers Test Prep, which continues to offer these same great services as well as many new services for CSET Single Subject exams, Praxis, CBEST, RICA and more.
For more info, please click below to visit our "About Us" page.