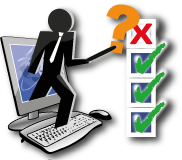 Smart-STEM Virtual Tutoring

With Smart-STEM Virtual Tutoring, you can get the subject matter and strategy help you need for success on the Praxis, CSET, CBEST, or RICA. This intellegent online system tracks your practice test results and then provides you with virtual tutoring on each multiple choice practice test question you missed.
Don't see your exam in the dropdown menus below? Either you have not yet submitted your practice test, or you have not yet purchased Online Prep. Visit our Smart-STEM Virtual Tutoring page to learn more, then enroll in Online Prep to get instant access to this feature!
To get Smart-STEM Virtual Video Tutoring on your multiple choice questions, please select your completed test using the dropdown menu below:
For selected tests, you can also access Smart-STEM Written Response Audio Tutoring. If this service is available for your exam, you may access it by selecting your exam below: