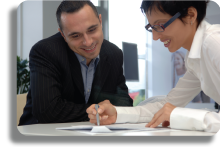 Expert Tutors, Proven Results
Watch our 2-minute Tutoring Info/Help Video for an overview of what to expect in tutoring and how to enroll.
Below, you will find a listing of our Praxis Elementary Education: Content Knowledge tutoring services. We offer private, one-on-one tutoring covering each of the four sections comprising the ETS Praxis Elementary Education (5014) exam, including Reading/Language Arts, Social Studies, Mathematics, and Science, with a variety of tutoring plans designed to fit your specific needs.
These plans are designed to offer general guidelines regarding the number of sessions you will need, but once you book Praxis tutoring sessions, you can use them however you like. Perhaps you wish to focus the majority of your time on a certain content domain, or you wish to review more broadly than originally planned. No problem. You can create your own customized plan (and your tutor will be happy to provide you with expert guidance based on your advanced diagnostic).
We offer substantial discounts when you schedule multiple sessions. With six or more sessions, you will receive 25% off our regular tutoring prices, and with 12 or more sessions, you will receive 40% off our regular tutoring prices.
Most of our Praxis tutors hold an advanced degree (usually a Masters or PhD). All are caring and enthusiastic teachers who have extensive experience preparing students to pass the ETS Praxis 2 Elementary Education exam. To read a short bio on each of our tutors and instructors, please visit our Meet Your Team page.
Each of the tutoring options below includes all study materials at no additional charge, and we cover the tax-- so the price you see is the price you pay.
We are so confident you will be pleased with your tutoring experience that we offer a Private Tutoring Satisfaction Guarantee.* If you purchase a tutoring package and are not 100% satisified for any reason after your first tutoring session, we will give you a full refund on all your remaining sessions.
When you're ready to enroll in tutoring, simply click on any of the "Enroll Now" links below, and you will be taken to our Tutoring Calendar page where you can view available sessions and book the exact dates and times you would like.

Want to save even more on tutoring costs? When you enroll in our Praxis Elementary Education Golden Apple Online Prep program, you'll get access to engaging instructional videos, interactive practice tests, and our innovative Smart-STEM Virtual Tutoring, plus you'll also get live one-on-one help from a real tutor when you need it, all at a substantial savings off our regular hourly tutoring rates. Learn more about Praxis Elementary Education Golden Apple Online Prep...
*Please read our Terms of Service for full details; some terms and restrictions apply.