Great Teaching. Great Results.
Since 2005, we've offered credentialing test preparation programs that have helped thousands of happy customers to pass their exams and achieve their dreams of becoming teachers. When we first began, our company was called "CSET Tutor," but we quickly grew to offer more than just tutoring for the CSET (California Subject Examinations for Teachers), so in early 2009, we became Teachers Test Prep, Inc.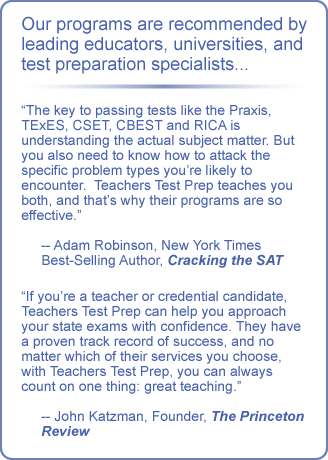 At Teachers Test Prep, we now offer a diverse range of services to help credential candidates prepare for the Praxis I and II, CSET (Multiple Subjects and Single Subject Math, Science, Social Science, and English), CBEST, and RICA, from college-based prep classes to private tutoring and online prep, all with a proven track record of success. In fact, 85% of the students we hear back from tell us they passed their credentialing exams after prepping with us-- many of whom had failed multiple times before they enrolled in our programs.
Why are our programs so effective? Because we don't simply give students a laundry-list of answers to test questions (it's not ethical, and considering the multitude of ever-changing test versions, it's also not a particularly effective way to prepare). Instead, we focus on teaching the actual subject matter knowledge you need to pass, targeting the exact content areas detailed in each exam's official specifications, so you'll be prepared no matter which specific questions you get. We also discuss numerous examples of the styles and types of questions you're most likely to encounter, both multiple choice and written response, and give you critical strategies and insights for your unique exam, not just general "test taking tips."
When you enroll in any Teachers Test Prep program, you'll also have the confidence of knowing you're supported by the best team of educators and test preparation specialists available anywhere. Our teachers, tutors and subject matter experts hold advanced degrees (usually a Masters or Ph.D.) from Harvard, Princeton, Columbia, UCLA, USC and other top universities, they have unparalleled, in-depth knowledge about the exams in which they specialize, and they are all caring and dynamic teachers who share one goal: to help you succeed.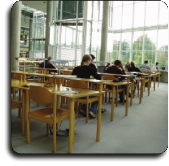 Select Your Exam Below to Learn More...
We offer prep classes, one-on-one tutoring, and online preparation options, all backed by our industry-leading guarantees. We also offer free resources to help you get started, including online overview study guides and full-length practice tests. Select your exam below to learn more...