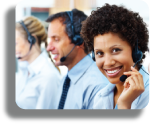 We're here to help...
At Teachers Test Prep, our goal is to help you succeed, and that means providing excellent customer service every step of the way.
Did you know that most customers quickly find the answers to their questions on our Frequently Asked Questions (FAQs) page?
Save time and begin by searching our FAQs page now...
Still can't find what you're looking for? Contact us!
---
Phone: (800) 764-8616
Mon-Fri 9am-5pm (PST)