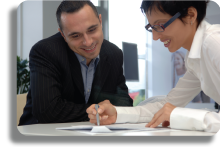 Live Praxis Middle School Math (5169) Tutoring Offered Online

Watch our 2-minute Tutoring Info/Help Video for an overview of what to expect in tutoring and how to enroll.
The Praxis Middle School Mathematics test (ETS 5169) encompasses a challenging breadth of material from Numbers & Operations, Algebra, Functions & their Graphs, Geometry & Measurement, and Probability, Statistics, & Discrete Mathematics, and while you need not be an expert in any of these subject areas, you do need a strong foundational knowledge of a multitude of advanced math concepts in order to pass this exam. Because of the broad range of topics covered, many Praxis Middle School Math test-takers find that they have specific knowledge deficits in certain subjects. Other Praxis Middle School Math test takers want to improve their subject matter knowledge in all areas of the exam to ensure success.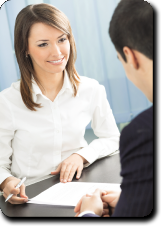 Whether you want help with a specific domain or you plan to review for the entire Praxis Middle School Math exam, Private Tutoring is a great choice.
After working through an initial practice test with you and performing an advanced diagnostic, your tutor will create a study program designed to meet your unique needs. You'll review the subject matter areas that will benefit you most, and as you master the core knowledge required to pass, your tutor will coach you through Praxis Middle School Math Practice Tests in which you'll learn proven techniques for approaching each problem type you are most likely to encounter.
If you are looking for the unparalleled results students achieve with private tutoring, but prefer to receive help from the convenience of home, our Live Online Tutoring is perfect for you.
All our tutors are caring and enthusiastic educators who take pride in helping our clients pass, and all must undergo a rigorous set of evaluations before becoming a Teachers Test Prep tutor, including a full background check, an academic knowledge assessment, and an evaluation of tutoring skills. Only the absolute best tutors make the cut to become Teachers Test Prep tutors.
We are so confident you will be pleased with your tutoring experience that we offer a Private Tutoring Satisfaction Guarantee.* If you purchase a tutoring package and are not 100% satisified for any reason after your first tutoring session, we will give you a full refund on all your remaining sessions.
Please click below to view a full list of our private tutoring plans...

Want to save on tutoring costs? When you enroll in our Praxis Middle School Math (5169) Golden Apple Online Prep program, you'll get access to engaging instructional videos, interactive practice tests, and our innovative Smart-STEM Virtual Tutoring, plus you'll also get live one-on-one help from a real tutor when you need it, all at a substantial savings off our regular hourly tutoring rates. Learn more about Praxis Middle School Math Golden Apple Online Prep...
*Please read our Terms of Service for full details; some terms and restrictions apply.