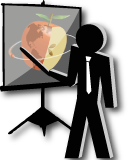 Quickly Review the Key Concepts You Need to Pass

Watch our 2-minute Online Prep Info/Help Video for a visual tour of our Online Prep features.
With our Core Slideshows, you get online access to the same great slides used by our instructors in our popular college-based test prep classes... from the convenience of home. These slides cover all the most important concepts you need to pass your Praxis, CSET, CBEST, OAE or RICA exam, without any fluff or filler.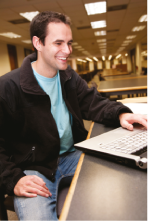 Using our easy and intuitive Core Slideshow interface (scroll down to view a screenshot), you can quickly find the exact slides you need, or view them all. To make the most of your study time, you can even tell our system to show you only slides related to the topic areas in which you got questions wrong on your last practice test.
Need more help on the concepts presented on your slides? No problem. If you're a Quick Core, Core Plus, or Golden Apple user, you can simply click on the teacher to the right of the slide on which you need help and we'll automatically play the corresponding Core Video in which one of our expert instructors will explain each concept in detail.
Want to watch sample Core Videos for your test before enrolling? Just click below...
Ready to access our Core Slideshows and Core Videos covering every key topic on your exam? Simply choose your exam below and purchase any of our Online Prep programs. When you enroll in Online Prep, you'll also get access to a host of other great features, including Smart-STEM Virtual Tutoring videos, in which we'll teach you how to apply your knowledge to each question on your full-length Version 1 Practice Test, and Advanced Diagnostics that assess your strengths and weakness based on your practice test results and automatically recommend the exact videos that will benefit you most, so you can be confident you are making the best use of your valuable study time.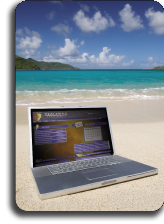 Ready to Get Started? Select Your Exam Below...
NOTE: Praxis PPST is the Praxis I Pre-Professional Skills Test, Praxis 0014/5014 is the Praxis II Elementary Education: Content Knowledge exam, Praxis 5031 is the Praxis II Elementary Education: Multiple Subjects exam (which includes subtests 5032-5035), Praxis 0069 and 5169 are the Praxis II Middle School Mathematics exams, Praxis 0061/5061 and 5161 are Praxis II Mathematics: Content Knowledge exams, and Praxis 0435/5435 is the Praxis II General Science: Content Knowledge exam. OAE is the Ohio Assessments for Educators.
Screenshot of Core Slideshow Interface
Our Core Slideshow interface allows you to easily navigate to the slideshow sections you wish to view.