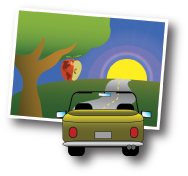 Let Us Be Your Guide on the Road to Exam Success
Preparing for the Praxis, CSET, CBEST or RICA can be daunting. With so much material to cover, it can be difficult just figuring out where to start, and even more challenging to create an effective preparation plan that truly makes the most of your valuable study time. That's why we've created the Roadmap to Success.
This system will help you design the perfect program for your individual schedule and needs. Start by telling us about your goals. Then choose a Quick Core, Core Plus, or Golden Apple preparation program. Our system willl then create a study program custom tailored to you.
Once you purchase your selected program, you'll be on the road to success, and we'll be your guide every step of the way. Our system will keep complete track of your progress and you'll see checkmarks automatically appear after each study item you complete. We'll also provide you with the advanced diagnostics and recommendations you need to keep moving forward.
Each time you log into your Teachers Test Prep account, just click on the Roadmap to Success icon on your My Account page and our system will give you simple instructions and easy-to-follow links for what you need to do that day. And if you fall behind, don't worry, our system will automatically adjust your schedule to help you catch up!
In order to set up your Roadmap to Success, you must first log in to your Teachers Test Prep user account. If you do not have an account, please create one now (it's fast, easy, and free).