CSET Multiple Subjects Study Guide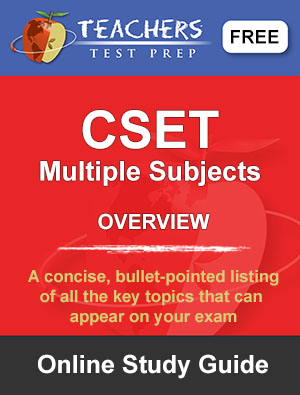 The CSET Multiple Subjects exam covers such a broad range of content that one of the hardest parts of preparing is knowing what to focus on.
That's why we created our free online CSET Multiple Subjects Study Guide. It gives a concise, bullet-pointed listing of all the key topics that can appear on the exam, so you can spend your study time learning what you really need.
You can also take our free, full-length CSET Multiple Subjects Practice Test to determine your likelihood of passing and get a breakdown of any areas where you need to improve.
Select a subtest below to view your CSET Multiple Subjects Study Guide.
Please note: In August 2022, the testing service replaced the Subtest 3 exam (test code 103) with an updated version (test code 225). We are currently revising our Subtest 3 program to reflect the changes and hope to have it available in Fall 2022. Our existing study guide covers all the same domains as the updated version, although there are differences in emphasis in the Arts sections.