2023 "Pass the Torch" Scholarship Finalists
We are thrilled at the way the Teachers Test Prep "Pass the Torch" Teacher Scholarships continue to grow! Each year, we award $10,000 to aid future educators on their teaching journey, with one $5,000 scholarship going to to an aspiring elementary school teacher and one $5,000 scholarship going to an aspiring secondary school teacher. In 2023, we received applications from over 110 colleges and universities, in 36 different states.
Entrants were asked to record a short video telling us about a teacher who inspired them and what they learned from that teacher that they would like to pass on to the students they will teach. From the many excellent submissions received from around the country, five finalists were chosen for each category. All received a $100 Amazon gift card and one year of free access to any of our Core Plus Online Prep Programs to help them pass credentialing exams such as the Praxis, CSET or FTCE.
Our finalists this year moved and uplifted us with their tales of teachers from all spheres of life. While the subject of each story made a difference in their own unique way, they all exhibit two common traits: a passion for their work and a strong commitment to helping others succeed. Guided by these powerful examples, we have no doubt that all of our finalists will go on to forge positive change in the classroom and touch the lives of their own future students.
Click here to see highlights from this year's "Pass the Torch" Scholarship finalists, or watch each finalist's full video using the links below.
---
2023 ELEMENTARY EDUCATION RECIPIENT
---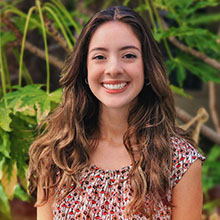 Alexia Herrera (San Diego State University, CA)
Teacher: Mrs. Jean Zelt
"From there on I always asked her questions and she always responded in the same way, and I will never forget the feeling of just being looked at directly into the eyes and given so much grace for questions that a lot of people might consider unimportant or 'stupid.'"
Growing up in a predominantly Spanish-speaking household, Alexia Herrera found that she needed to ask a lot of questions to learn. However, when she sensed her teachers' annoyance, she began to remain quiet, and by middle school was falling behind. Then she entered Mrs. Zelt's math class. Mrs. Zelt's patient, humble approach to teaching gave Alexia the confidence to engage again, transforming her feelings of shame and defeat into excitement at what she was able to achieve. A firm believer in the power of scaffolding, Alexia's goal as a teacher is to nurture her students' growth by always meeting them where they're at.
---
2023 ELEMENTARY EDUCATION FINALISTS
---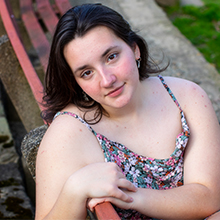 Leah Coleman (West Virginia University, WV)
Teacher: Diane Coleman
"She learned how to read Braille, she learned how to write in Braille ... She has literally completely changed everything in her life just to take on this new adventure, and it is very insane but also incredibly, like, moving."
Leah Coleman's most inspiring teacher was not encountered in the classroom, but in her home. In her fifties, Diane Coleman, a mother of five with a stable career and busy home life, decided to return to school to earn her masters in teaching the visually impaired. Now, having acquired a whole new suite of skills and found a rewarding job supporting a student who is blind, Diane's courage and persistence has had a powerful effect on her daughter, showing Leah that both learning and teaching are lifelong pursuits, and it is never too late to pursue your dreams.
---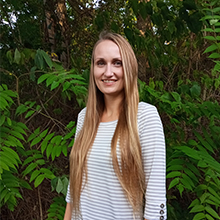 Rachel Comer (Liberty University, VA)
Teacher: Charles Clinedinst
"I have tried my best to be a good demonstration to my children, but it just didn't seem like it was enough. They were in my wall, so to speak … I want to go beyond the wall, or beyond my family, and touch someone else's life as well."
At the beginning of her senior year of high school, Rachel Comer found out she was pregnant. Becoming a wife and mother radically changed her plans to go to college. However, one constant in her life was Pastor Charles Clinedinst. Brother Charles welcomed the pregnant teenager, and over the years, continued to inspire her with both his sermons and his life. Now, as both a mother of five and a rising elementary school teacher, Rachel strives be a source of strength and encouragement for all children who need someone in their corner.
---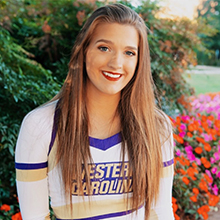 Riley Sanz (Western Carolina University, NC)
Teacher: Miss Jean Walker
"She taught me that with art, it was possible to focus my mind, something I never thought I'd accomplish as an unmedicated child struggling with ADHD. Miss Walker is my inspiration, and I'm lucky enough to also call her my grandmother."
Hyperactive, emotional, and struggling to concentrate, Riley Sanz found it difficult to thrive in school or to get the support she needed from her teachers. Luckily, her grandmother was there. By encouraging her love of art, Miss Walker gave Riley the sort of malleable structure she needed to manage her overwhelming thoughts and feelings and find the stillness she needed. As a teacher, Riley aims to recognize the unique needs of each of her students, and to help them utilize art as a tool for advocacy and self-expression.
---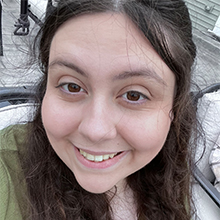 Lilly Stange (University of Illinois, IL)
Teacher: Mr. Emile Williams
"He looked me in the eyes, and he said, 'Lilly … It is not your fault what your parents do or don't do. You're not responsible for them and you can ask me for help whenever you feel like you need it.'"
As a child of parents struggling with substance abuse and mental health issues, fourth-grader Lilly Stange constantly felt pressured to hide her dysfunctional home life from the world. Teacher Mr. Williams, however, saw through Lilly's pretence, letting her know that it wasn't her job to be the adult and quietly liberating her to get the support she needed. Through her work as an educator, Lilly wants her students to likewise feel that someone truly sees their situation – and has their back.
---
2023 SECONDARY EDUCATION RECIPIENT
---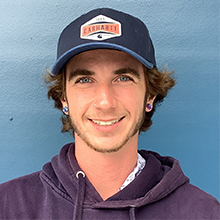 Aidan Schaefer (Cal State University San Marcos, CA)
Teacher: Emily Larick
"I was just so amazed. I asked her, like, 'How do you do it?' And she told me, 'If students are not learning in the way that we teach, we need to teach them in the way that they learn.' And that really changed my mindset."
When Aidan Schaefer first started working as a behavioral technician for a child with autism, he felt way out of his depth: he had no experience supporting children with special needs and was feeling frustrated, physically exhausted, and burnt out from his job. Then he met Miss Emily. A special education teacher for students with moderate to severe autism, through her patience, positivity and resilience, Miss Emily achieved astonishing results where other teachers had given up. Her inspiring example motivated Aidan to not only become a teacher himself, but to be a better human.
---
2023 SECONDARY EDUCATION FINALISTS
---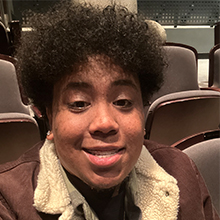 Trinidad Avila (Teachers College of San Joaquin, CA)
Teacher: Mr. Michael Fredericksen
"If it wasn't for that man, Mr. Fredericksen, that stepped in the way he did and provided me all these tools and resources … I would have failed all my classes. But because of him I learned how to be a listener. I learned how to be an advocate."
Trinidad Avila experienced a major setback when he lost a key parental figure in his life. All at once he found himself laden with extra responsibilities, supporting his grieving mother and helping his younger brother with his schoolwork. This inevitably took a toll, with Trinidad struggling to focus on his homework and experiencing severe test anxiety at school. Luckily his English and Psychology teacher, Mr. Fredericksen, noticed and was there to advocate for him. Now, as he prepares to teach alongside his former teacher at his old school, Trinidad is determined to be a champion for his students, just like Mr. Fredericksen was for him.
Click here to watch Trinidad's story about Mr. Fredericksen.
---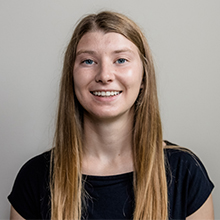 Grace Forry (Grove City College, PA)
Teacher: Mrs. Elizabeth Erb
"The biggest thing was they all cared about their students and were there to help them succeed."
From a young age, Grace Forry knew that she wanted to be a teacher. As she walks us through the different schools she has attended over the years, Grace reflects on all the teachers who inspired her on her journey: Mrs. Erb, the elementary teacher who tirelessly found ways to help her with her eyesight issues; the seventh grade teacher who encouraged her to embrace the awkwardness of middle school; and a host of committed high school teachers who devoted unlimited time and energy to forging relationships with their students. A future middle school math and science teacher, Grace aims to carry this collective wisdom into her own teaching practice.
---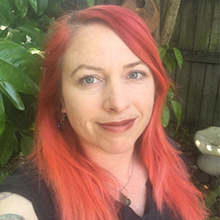 Danielle Pearl McElwee (Sonoma State University, CA)
Teacher: Miss Janet Rasmussen
"Miss Rasmussen was the first woman I met who was strong without being mean, who was firm in a way that made her students feel secure instead of restricted, who saw beyond what students looked like and who they were at their worst and instead found what made them amazing and used that to teach us."
As a teenager, Danielle Pearl McElwee was a capable student who at times found it hard to concentrate and could become disruptive or goof off in class. Other teachers were frustrated by her behaviour and criticized or belittled her, but never Miss Rasmussen. Firm but fair, with high expectations, science teacher Miss Rasmussen treated Danielle like an adult, seeing her capabilities and challenging her to live up to her potential. Today, as an aspiring high school English teacher who works regularly with young people, Danielle finds herself channelling Miss Rasmussen's core qualities of strength, discipline - and respect.
---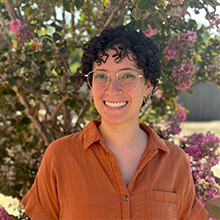 Kiki Grandi Soriano (University of San Diego, CA)
Teacher: Mr. Joel Michel
"Immediately he made space for me in the classroom, and he made me feel seen and respected, like I was bringing a lot of valuable contributions to the space."
Aspiring teachers need mentors who will not only equip them with the skills and knowledge they need, but affirm their value both as educators and individuals: this is what Mr. Michel offered student teacher Kiki Grandi Soriano. A teacher at a predominantly low-income, Latino school near the Mexican border, Mr. Michel welcomed Kiki into his classroom, humbly eschewing the role of master teacher and reminding Kiki that their voice mattered. As an educator, Kiki strives to carry this inclusive approach forward, creating spaces where students' identities are supported, and they feel safe to be themselves.
---