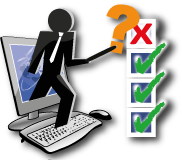 Learn About the Services We Offer and How to Use Them...
The short videos listed below provide information about the various Praxis, CSET, CBEST, and RICA prep services we offer, as well as tutorials on how to use these services. If you cannot find a video that provides the help or information you need, please Contact Us and we will be happy to assist you.
General
Requesting A New Password - Lost your password? No problem. This video will show you how to quickly and easily request a new one.
My Account Overview - This video provides a concise overview of how to use your free Teachers Test Prep account features and also briefly explains the additional services that are available if you need more help.
Online Prep
Live Prep Classes
Private Tutoring
Organizations
Praxis
CSET
CBEST