2018 "Pass the Torch" Scholarship Finalist
In this evocative homage to her music teacher, Katelyn Novak explores how the passion of one extraordinary woman ignited her love of music - a passion she inevitably transfers to her own students: "Her zest for bringing music to life has been planted deep within me. I cannot help but pass it on."
Here is Katelyn's story about Ms. Tedder, the teacher who inspired her...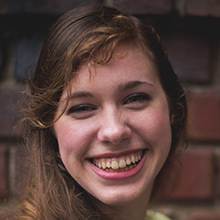 She stood center stage with her back to the audience. Not that she was ignoring them. She wasn't. Like a lovely little spider, she perched in the center of a web of music, feeling the ebb and flow, hum and buzz of the life all around her through the invisible tentacles of sound. Was she actually conducting the choir? "Conducting" seems too bland, too mathematical and tedious. Instead, it was as if she was gently coaxing color, warmth, and light from a sprawling palate of pitches and a vast ocean of voices. The next moment, I was convinced she had completely forgotten her role as conductor, lost in the simple pleasure of dancing in time with the music. Suffice it to say, she never conducted with her hands alone. Never. The music penetrated every fiber of her being.
"She is so dramatic," some said when the standing ovation finally caught its breath and settled down. Others just smiled and shook their heads at what might have been called her "passion". Both still seemed like pathetic understatements to me. Yet, whatever it should have been called, it was infectious.
The next day, I sat in my piano lesson, eager to learn from her years of musical experience. Musicians rarely fill only one role in the musical world and, while yesterday she conducted choir, today she would teach piano. Chopin Prelude, Op. 28, No. 15 was her first request and as I began to play, her presence faded in and out my conscious attention. At times she hovered a good distance away, surveying the shelves of music scores behind me, and softly humming along with Frederic Chopin's masterpiece. Then suddenly, she would appear at my elbow, dancing with the intensity of the music, beckoning me to transform the sound into music larger than life. The melody soared. The music came alive. Chopin's Raindrop Prelude exploded into a thunderstorm.
I burst out of her studio into the frigid December air. With glowing cheeks, I gasped a deep breath. It wasn't because of the biting winter cold, but rather because of the exhilarating thrill that always followed a piano lesson with Ms. Teresa Tedder. It felt like the enchanting freshness after a summer rain.
Years later, I now fill many roles: student, conductor, piano teacher, music educator. As I go about each task, the dramatic passion of my own piano teacher comes springing forth from the very core of my love of music. I still have so far to go before I can compete with her knowledge and skill, but her zest for bringing music to life has been planted deep within me. I cannot help but pass it on to my own students. My youngest pupil perches on the piano bench, studiously playing a piece by Beethoven and I suddenly feel the urge to dance at her elbow. Why just play the notes when we could bring the music to life? And together we make Beethoven's little German Dance, like that Chopin Prelude years before, burst to life.
Want to hear the stories of the other seven finalists? Visit our 2018 Scholarship Finalists page.
Thinking of applying to this year's program? Learn more on our Teachers Test Prep "Pass the Torch" Teacher Scholarships page.