2018 "Pass the Torch" Scholarship Finalist
Katherine Harrison proved that age is no barrier to pursuing your dream, when after 22 years as a homemaker, she returned to college to become a teacher. Challenged to share her story with her classmates, Katherine learned the value of vulnerability in creating a safe and supportive learning environment.
Here is Katherine's story about Professor Marlene "Graciela" Molina, the teacher who inspired her...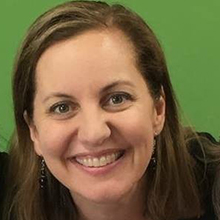 Gaining the Confidence to be an Effective Teacher
I nervously looked around the room, and realized I was the oldest student in the group. "What am I doing here?" I wondered to myself. It had been 22 years since I'd been a university student. I had been a stay-at-home mom since then, focused on raising my children. But when my husband left me, I needed to find a way to support myself and my disabled daughter. I had always wanted to be a teacher, so I applied to the University of San Francisco's Master's in Teaching with Credential program. I was thrilled to be accepted, but as I sat in my seat on the first day of class, I was filled with self-doubt. My confidence in myself had been eroded during my marriage and I wasn't sure I would be able to keep up with the coursework and the younger students in my cohort. I felt sick to my stomach as I waited for class to begin.
Our instructor introduced herself as Graciela Molina, as she passed out a two-page list of questions. She explained we would be doing "Long Introductions" and would share the answers to the questions with the class. As I skimmed the list, I felt like I was having a heart attack. These were not ordinary "getting-to-know-you" questions about a favorite food or favorite color. These questions centered on our family's socio-economic background, hardships we had faced, discrimination we had experienced, and other deeply personal topics. Professor Molina introduced herself first and I was moved by the life experiences she shared. I still reflect on some of the stories she shared during that introduction, when I need to summon the courage to face a challenge. I was impressed with the strength it must have taken for her to be so vulnerable in front of a group of strangers.
I was grateful I was sitting in the middle of the group and wouldn't have to introduce myself first. The class met for six hours, and that wasn't even enough time for everyone to have a turn that first night. I wondered why our professor was spending so much time on this activity. But by the end of the first class, I started to understand. As each student opened up about themselves, their family and their experiences, I began to feel a connection to them and I was often moved to tears. I realized that everyone in the room had overcome challenges and I recognized that even though we all came from a variety of backgrounds, we also had a lot in common. When it was my turn, I felt nervous, but I also felt safe because Professor Molina had made it clear that this class was a safe space for everyone. After I shared, I felt supported by Professor Molina and the other students. And my initial apprehension about being the oldest student in our cohort, and my doubts about my ability to succeed in the program, started to melt away.
That course was Teaching for Diversity and Social Justice. Professor Molina helped us understand how crucial acceptance is for all students. In that class, as well as in other courses in the program, we studied the latest brain research showing that students must feel safe and that they are part of a welcoming community, in order for their brains to function optimally for learning. Professor Molina's Long Introductions and the environment she created in that class, week after week, allowed me to experience first-hand the difference it makes for a student when they feel safe, supported, and connected to their classroom community. She provided a safe space for me to learn, and in spite of my initial apprehension, I was able to learn the content and perform well.
I've had the privilege of taking two more courses from Professor Molina during my time in my program, and her example has continued to help me understand how to create a safe environment for my students. In addition to vulnerability and sharing her personal experiences, Professor Molina uses organization and structure to establish a consistent and reliable classroom culture. When students know what to expect, they are able to relax and focus on learning content. I've been able to experience this outcome personally, because Professor Molina provides an extremely well-organized syllabus for the semester as well as an agenda for each class period. Knowing what the assignments and expectations are for each semester and each class period gives me great peace of mind and I can tell that I'm better able to learn content when I'm not trying to figure out an assignment's due date or requirements. This modeling has shown me the value of a high degree of organization and I look forward to offering the same clarity to my own students.
As I prepare to start student teaching next month, I am reflecting on Professor Molina's example. Even though it's intimidating to think about being vulnerable with my new students, I've experienced first-hand the difference it makes for students when their teacher models vulnerability and creates a safe, connected, classroom culture. I know this is what I want to offer to my students. I also look forward to being as organized as I possibly can, so my students will have the security of knowing what to expect. Because of Professor Molina, I have grown from a scared, newly-admitted grad student who doubted whether I could complete the program, into a self-assured future teacher. I am excited to model vulnerability for my students and create a safe, supportive and organized classroom culture that will allow them to thrive.
Want to hear the stories of the other seven finalists? Visit our 2018 Scholarship Finalists page.
Thinking of applying to this year's program? Learn more on our Teachers Test Prep "Pass the Torch" Teacher Scholarships page.