2018 "Pass the Torch" Scholarship Finalist
Born into a traditional Hispanic household, Lucero Martinez Cisneros is a fervent believer in the transformative power of education. She attributes her passion for teaching to the influence of one man, Mr. Simon Alvarado, a committed teacher who helped not only her, but six of her siblings, take pride in their cultural identity and envision a future beyond the one they had been allotted.
Here is Lucero's story about Mr. Alvarado...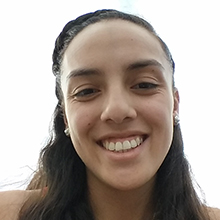 Mr. Simon Alvarado
Born seventh of nine children into a traditional Hispanic household, I was the last female to join the Martinez clan. Like my sisters before me, our purpose, according to our parents, was to become great housewives while our brothers' duty was to provide and protect. However, along came Mr. Alvarado with a different goal for us, all.
Mr. Alvarado, a tall, proud, and energic Mexican man filled his classroom with the music of our ancestors. On the right-hand side of the room, a Mexican flag hung boastfully surrounded by photographs of memorable Hispanic role models. Also, in big green letters spelled Mr. Alvarado's key ingredient for success: ¡Ganas! His glorious mustache accompanied by his famous smile were his welcome that made you grin. He greeted every student at the door by their name and a firm handshake. During lunch, his classroom would remain open for any hungry student searching for a free Cup Noodles or some company. His playful mannerism allowed his teaching to be fun and constructive. There was never a dull moment in his classroom.
He had served in the military and had lost a child however his smile never disappeared. Instead, he created a scholarship in memory of his son and awarded a lucky student each year. His belief in the power of education transformed his teaching and exemplified his desire to assist students of color in reaching the door of a four-year university. His goal was simple, encourage students to pursue higher education to better themselves. He gave my older brother and sister the courage to attend community college instead of limiting their workforce to the fields. While my other two brothers decided to work, he advised on a company that had room for improvement and certified training. His visit to our home convinced our parents to allow my second oldest sister to attend a four-year university away from our small town. He is the primary reason my other sister and I also escaped to a university.
He represented freedom and acceptance. Freedom from the daily household pressures to become what Hispanic society deemed worthy for us. We were free to speak and perfect our native tongue. No more "This is America, speak English." His room was safe from mistakes, for there was only room for improvement. Finally, a teacher that mirrored our skin color and spoke our language. He understood our struggle without us speaking a word. While others pushed us down, he was always there to lead a hand and help us up. If only for a moment, we could put our guard down and be vulnerable.
Mr. Alvarado taught me that to be the best teacher possible; first I must educate myself before others. Hence, our shared belief, education is the most valuable inheritance all children should receive from past generations. Anything less is a failure and a disservice to future generations. Scholars should be provided with the necessary instruments to achieve intellectual independence. As a future educator, I plan to gain a position of change to continue advocating for students. I hope to cultivate and ignite a passion for learning beyond an exam. I desire to see an increase of scholars reach the gateway of a four-year university and expansion of doctorate candidates. Along with my future students, I will hold myself to high expectations and commit to be a lifelong learner.
Seven of nine. That is the number of Martinez children he taught, and he is the reason for our success. It is an honor and privilege to call Mr. Alvarado my teacher and mentor. Now it's my turn to continue his legacy and accomplish our shared goal. I am destined to be a teacher like him. May he rest in peace.
Want to hear the stories of the other seven finalists? Visit our 2018 Scholarship Finalists page.
Thinking of applying to this year's program? Learn more on our Teachers Test Prep "Pass the Torch" Teacher Scholarships page.